Experts, advocates to discuss 'Equity at the Ballot Box'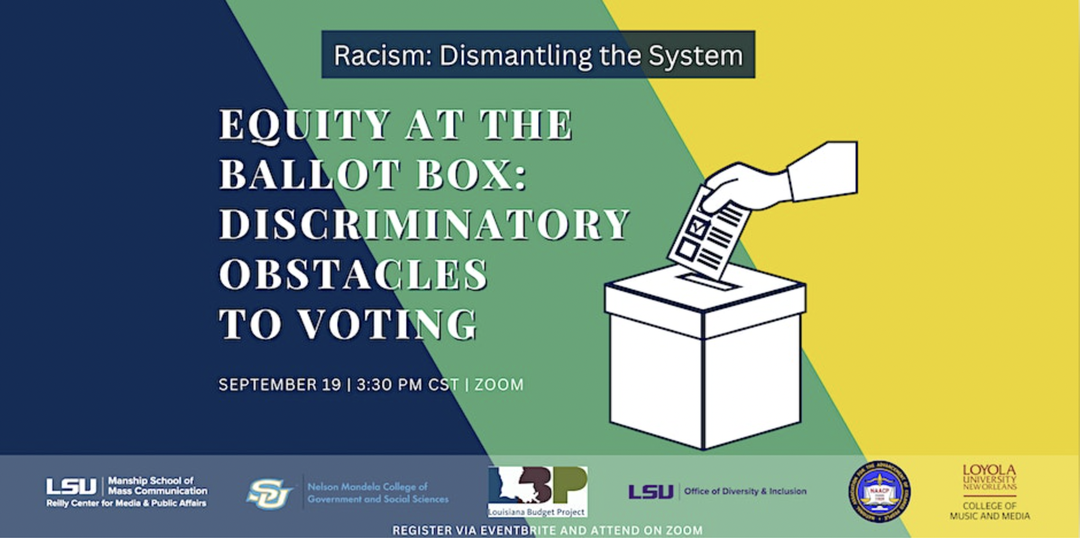 Southern Univesity joins partners for the first installment of season seven of the "Racism: Dismantling the System" series. The new episode, "Equity at the Ballot Box: Discriminatory Obstacles to Voting," will take place Sept. 19, 2023, at 3:30 p.m. CT, via Zoom. The Reilly Center for Media & Public Affairs at LSU's Manship School of Mass Communication is host for this public event.
Advocates and experts will discuss efforts across the U.S. to curb voting in response to claims of fraud and a stolen presidential election in 2020. Voter suppression and election result subversion measures primarily target racial minorities. Learn about these tactics and how communities are working to shape a more equitable democratic process in the face of efforts to degrade voting rights.
Panelists are as follows:
Sara Martin,

Moderator

, Political Science Master's Student, Southern University

Jarret Luter, Committee Chair, Baton Rouge NAACP Branch Political Action Committee

Ashley Shelton, Founder, President and CEO, Power Coalition for Equity and Justice

Albert Samuels, Ph.D., Chair of the Department of Political Science and Geography, Southern University

Sara Carter, J.D., Equal Justice America Fellow, Brennan Center for Justice's Democracy Program
"States all across the country have passed laws that stymie and restrict one's ability to participate in the most fundamental function of a democracy: voting," said Baton Rouge NAACP Branch President Michael McClanahan. "The disparities minorities battle highlight the long history of bigotry and discrimination that have, and still are, negatively impacting the lives of racial minorities."
"Racism: Dismantling the System" is an ongoing series of conversations about structural racism and solution-oriented action toward equal opportunity and justice in our communities. The series amplifies the voices of community advocates, academics, journalists and more working for social justice in our nation and beyond.
The series is hosted in partnership with the Loyola College of Music and Media at Loyola University New Orleans, Southern University and A&M College's Nelson Mandela College of Government and Social Sciences, Louisiana Budget Project, NAACP Louisiana State Conference and the LSU Office of Diversity & Inclusion.
"Among the many challenges facing our democracy, equal and fair access to voting is high on the list. Restrictive voting policies lock too many voters out of the process, falling hardest on communities of color," said Carter. "I hope this conversation can shed some light on policy reforms to help ensure that every eligible American exercises their fundamental right to vote."
The episode will take place on Zoom and will be broadcast live on the Louisiana Budget Project's Facebook page. Admission is free, but you must register in advance on Eventbrite to receive the Zoom meeting access code. The episodes will also be recorded and uploaded to the Manship School's YouTube channel. For more information, contact acharbonnet1@lsu.edu.