Honors Credit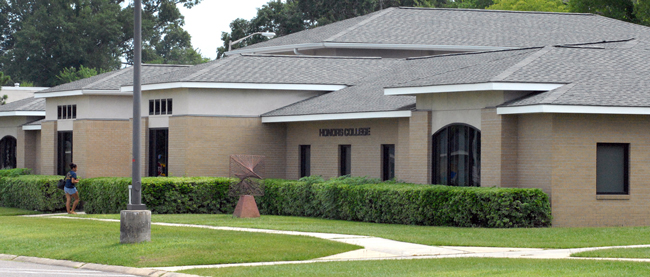 HONORS CREDIT BY CONTRACT
CURRICULUM
(Honors Designated Course Areas)
Arts & Humanities English Composition

Freshman
Sophomore
Junior
Senior

Independent Study (Select Curricula)
Natural Sciences
Physical Sciences
All Major Curricula (Select Courses)
HONORS CREDIT BY CONTRACT
(H-option)
Honors Credit by Contract (H-option) is designed to enable students to pursue Honors work in all curricula. It provides the resources by which students are able to complete the requirements for the Honors College degree. Furthermore, Honors Credit by Contract permits students' academic freedom in building their own honors curriculum, a flexibility that often results in programs and experiences not characteristic of the traditional program of study.
H-option contracts generally share one or more of the following:
Choice of courses content and/or material of particular interest to both student and instructor.
Specification of data sources not routinely addressed in the course.
Explicit provision for additional consultation between student and instructor.
Evaluation methods that is specific and rigorous, although not necessarily in the form of traditional term papers.
H-option work is likely to, but need not necessarily, fall into one or more of the following categories:
Guided research involving data from primary sources, laboratory investigations, or field explorations resulting in individual reports, annotated bibliographies, etc.
Participation in weekly seminar sessions to review and discuss current honors work; in cases where the instructor chooses to schedule such sessions for several students pursuing H-option work.
Class presentations designed, prepared and delivered to a standard that will qualify as teaching.
Additional reading discussed with the instructor in individual or group tutorial sessions to be presented in class and/or incorporated into regularly required written work.